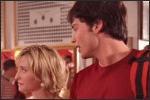 Show: Smallville
Ship: Chlark/Clark-centric
Song: Iris - Goo Goo Dolls
Date: 12/11/2002

Notes: Chlark Arc. It's supposed to be a Crush-Heat arch but little bits of early S1 crept in and a scene from Lineage... but most of it is Crush/Heat. It's a basically Clark missing Chloe type vid. My second favorite one.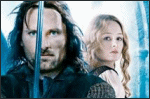 Show: LotR
Ship: Eowyn/Aragorn
Song: I'm Gonna Getcha Good - Shania
Date: 1/19/2003

Notes: The Two Towers Vid. Twelve hour video, due to talking with Cully and Molly. And a really catchy pop song. For all those A/E people out there. :)
Show: Smallville
Ship: Chlark/Chloe-centric
Song: To The Moon & Back - Savage Garden
Date: Not Finished

Notes: All About Chloe, for once. I started this shortly after S2 but when you add in computer problems, real life, and SV apathy... things get a little delayed. The idea about this was kind of to parallel 'Iris.'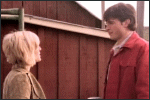 Show: Smallville
Ship: Chlark/Clark-centric
Song: 8th World Wonder - Kimberly Locke
Date: 5/10/2004

Notes: After perpetual angst for the last two seasons, I felt that there was a need to look back at the good times of the last two. Very peppy. Very much "Chloe remembers why she loves him."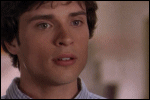 Show: Smallville
Ship: Clark-centric
Song: One Headlight - Wallflowers
Date: Still in Mapping

Notes: One of the reigning theories about Chloe Sullivan is that by the end of the series, she'll..uhm, well, die. Yeah, I don't like it either. But ther ecomes a point when one thinks "Hmm. Maybe I *should* do a vid about that." And what is One Headlight if not a Clark-in-mouring song anyways?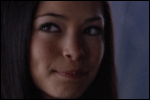 Show: Smallville
Ship: Lex & Lana-centric
Song: Celebrity - Brad Pasely
Date: 1/3 finished

Notes: Sometimes, one must mock the very show one loves. And, as much as I ignore Lana on screen and enjoy Lex... this song was too perfect and too much them not to vid it. And really, y'know, it's funny.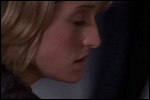 Show: Smallville
Ship: Chloe-centric
Song: Here With Me - Dido
Date: In Mapping

Notes: When I make a Clark-angst, I always seem to make a correlating Chloe-angst. I do not understand. Thankfully though, Chloe isn't dead in this one. ...at least, I'm not planning on it.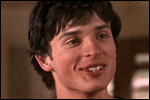 Show: Smallville
Ship: Clark-centric
Song: Stacey's Mom - Fountains of Wayne
Date: 1/4 Done

Notes: Yet another 'I must be crazy!' vid. Surprize pairing. Lots of mocking. And the peasents rejoiced. :)